TROLLEY ( T )
LOGIC 5.0 COMMERCIAL DOOR OPERATOR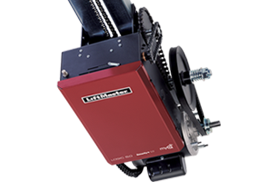 SMART
MyQ® TECHNOLOGY ENABLES MONITORING AND CONTROL OF THE FACILITY OPERATORS THROUGH A MOBILE APP.
GRID VIEW TO EFFICIENTLY MONITOR ALL THE DOORS IN THE FACILITY.
REAL-TIME ALERTS INDICATE THE STATUS OF DOORS VIA EMAIL OR PUSH NOTIFICATIONS.
CONNECTIVITY REQUIRES PURCHASE OF INTERNET GATEWAY (828LM) OR MyQ HOME BRIDGE (819LMB), SOLD SEPARATELY.
SAFE AND SECURE
SECURITY+ 2.0 ® SAFEGUARDS FACILITY ACCESS WITH ROLLING CODE TECHNOLOGY, OPENING FOR REGISTERED DEVICES ONLY.
TIMER-TO-CLOSE CAN BE PROGRAMMED TO CLOSE THE DOOR AFTER A SET AMOUNT OF TIME.
THE COMMERCIAL PROTECTOR SYSTEM ® AUTO-REVERSES THE DOOR IF AN ENTRAPMENT PROTECTION DEVICE DETECTS AN OBSTRUCTION.
UL 325 REQUIRES ALL COMMERCIAL DOOR OPERATORS TO BE EITHER CONSTANT PRESSURE TO CLOSE OR BE EQUIPPED WITH A PRIMARY EXTERNAL MONITORED ENTRAPMENT DEVICE.
RELIABLE
CONTINUOUS-DUTY  HIGH-STARTING TORQUE MOTOR PERFORMS IN DEMANDING INDUSTRIAL OVERHEAD AND ROLLING DOOR APPLICATIONS.
WARRANTY 2 YEARS.
BEYOND INDUSTRY STANDARDS: LIFTMASTER®  IS COMMITTED TO QUALITY PRODUCTS, INNOVATIVE DESIGN AND COMPREHENSIVE SERVICES.
Features
SECURITY+ 2.0® RADIO RECEIVER
ACCEPTS:
– (30) 3-Button Remote Controls or (90) 1-Button Remote Controls
– Additional 30 Wireless Keypads
– Unlimited DIP Switch Remotes
WIRING
– Control Function Selector Dial Allows Easy Selection
of 7 Wiring Types to Meet Users' Needs
– C2 (Constant Pressure to Close) Wiring Preset
– Wi r ing Types B2, T, TS and FSTS Can Be Selected with the Addition of an Entrapment Protection Device
– Monitored Entrapment Protection Is Recommended
When Using C2, D1 or E2
– Logic 5.0 Operators Only Accept UL-Approved
LiftMaster® Entrapment Protection Devices
CONSTRUCTION
– NEMA 1 Type Electrical Box
– Heavy-Duty 11-Gauge Steel Frame with Durable Powder-Coated Finish
– All Reduction Sprockets Drilled and Pinned to Shafts
– Mid-Stop Enables Partial Openings to a Programmed Position for Environmental Control and Time Savings
– Adjustable Friction Clutch Protects the Door and Operator from Damage and Obstructions