6500
Thickness: 24 Gauge
Paint: 1.0 Mil
---
Constructed of top quality materials with pebble embossed finish, designed for each application and engineered for years of dependable operation.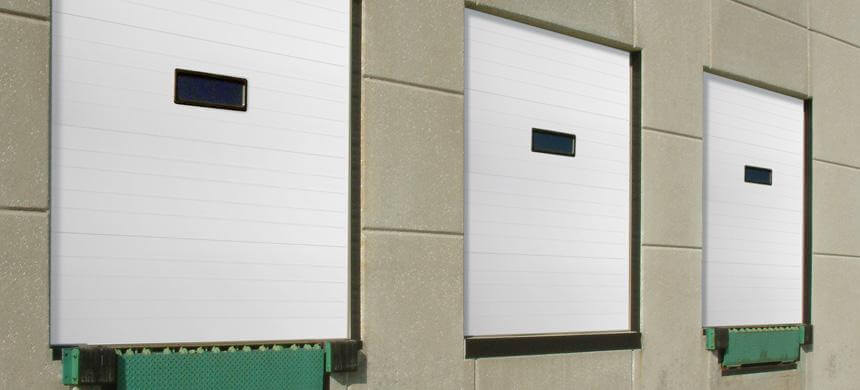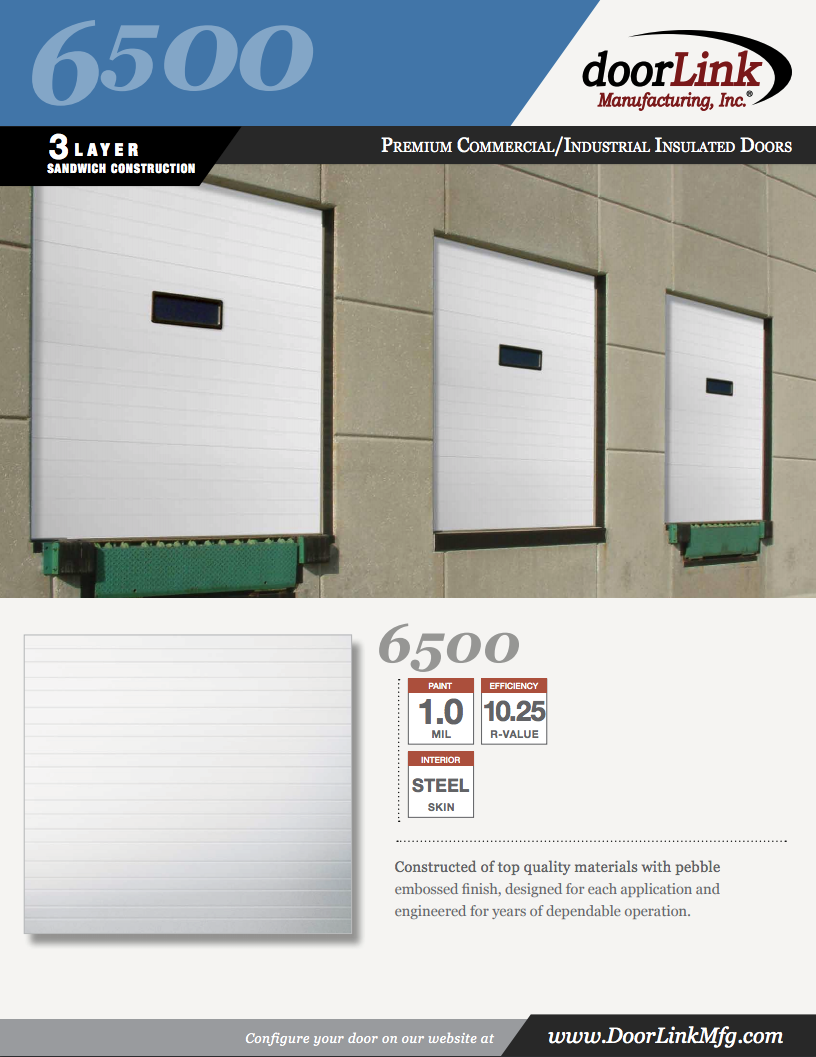 Resilient & Hard-Wearing
---
Standard Features
Door Sections
Door sections have a 2″ thickness and are manufactured using an exterior pebble grain embossed nominal 24 gauge steel panel and a 26 gauge steel interior panel with polystyrene insulation pressure bonded to both panels. Sections have tongue and groove meeting rails. Exterior panels are formed with four small grooves. End caps are 20 gauge galvanized steel. 20 gauge steel interior hinge plates are provided for hardware attachment. Plates extend to full height of the section. R value of polystyrene core is 10.25.
Glazing
24″ x 8″ or 24″ x 12″ windows glazed with insulated glass are available. Optional Series 8000 Full View sections can be substituted for steel sections.
Track
Galvanized track system is 2″ or 3″ depending on door size and weight and can be bracket or angle mounted as required. Optional track configurations include high lift, vertical lift, low headroom, and follow the roof pitch.
Hardware
Hinges and brackets are made from galvanized steel. Commercial duty rollers are standard.
Spring Counterbalance
Springs are oil tempered helical wound and stress relieved torsion springs mounted on a cross header shaft supported by bearing brackets. Springs are calculated for 10,000 door cycles. 25K, 50K, or 100K cycles are optional. Cables are galvanized aircraft quality with a minimum 7 to 1 safety factor.
Finish
1.0 mil paint system includes .25 mil rust inhibiting primer and .75 mil top coat that resists fading and chalking while providing consistent color from panel to panel. Finish color is white.
Weatherstrip
Bottom section has a replaceable U type bottom astragal retained by an extruded aluminum retainer. Optional jambs and header weather-stripping is available.
Lock
Lock is interior mounted slide lock.
Operation
Operation to be manual push up, chain hoist, or electric motor.
Wind Load
Consult factory for available wind load rated options.
Construction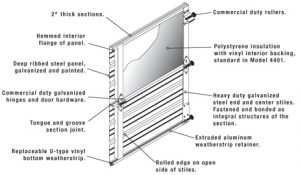 ---