Medium-Duty Logic Jackshaft Operator (MJ)
Safest Installations. Smartest Innovations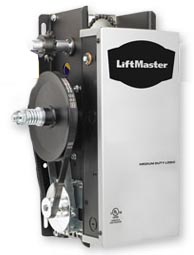 Standard Features
For high or vertical lift sectional doors or small rolling doors and grilles
Medium-Duty Logic programmable integrated circuit board
High starting torque motor with overload protection
Adjustable friction clutch
Solenoid brake standard
Built-in 315 MHz receiver
UL325-2010 Compliant Medium-Duty Logic technology provides primary monitored entrapment protection; a required safety regulation. This insures that the appropriate safety devices, a monitored photo sensor or monitored sensing edge, are functional in all operator formats.
The innovative design of Medium-Duty Logic also provides reliable service and exceptional value to economically meet the needs of a variety of commercial door applications.
Added Value, Convenience and Compliance
• UL325-2010 Monitored Entrapment Capability – Provides primary monitored entrapment
protection through monitored photo sensors, either CPS-U or CPS-UN4, or a 4-wire monitored edge using the CPS-EI interface
• UL-Listed and UL-Labeled to insure compliance to local codes and approval at final inspection
• Integrated timer-to-close (TTC)
– Programmable from 5 to 60 seconds in 5 second increments
– Allows for timed automatic door closure after the door reaches the full open position
– Requires monitored safety devices, either CPS-U, CPS-UN4 or CPS-EI
• Integrated 3-channel radio
– Learn/program up to 20 Chamberlain®
315 MHz remote controls
– Recognizes Security+® and DIP switch remote controls
– Compatible with 3-button remote controls for open/close/stop operation
• Integrated 90-second maximum run timer
Features
Motor
Powerful 1/2 HP, 115V single-phase motor with instant reverse, capacitor start and overload protection. Removable without affecting limit switch settings.
Floor Level Disconnect
Floor level disconnect provides emergency manual operation.
Operator/Motor Control
Solid-state Medium-Duty Logic circuit board.
Control Circuit
24V NEC Class 2.
Wiring type
All operators are factory preset to C2 mode, providing momentary contact to open and stop, with constant contact to close. Monitored entrapment protection, using approved photo sensors or sensing edges, is optional, although recommended, when using this wiring type. Momentary contact to close (B2 mode) is an available optional wiring type, but can only be selected when the appropriate monitored entrapment protection device, either LiftMaster® CPS-U / CPS-UN4 photo sensors or a monitored 4-wire sensing edge (via the CPS-
EI interface), is present. The Medium-Duty Logic operator is pre- wired to accept CPS-U/ CPS-UN4 / CPS-EI monitored entrapment protection devices.
Drive Reduction
First-stage heavy-duty 4L V-belt; second and third stages #48 chain.
Friction Clutch
Adjustable friction clutch helps protect against damage to the door and operator should the door meet an obstruction.
Brake
Heavy-duty solenoid-actuated brake.
Push Button Station
3-button station, for open/close/stop functions, is standard for all operators. Controls with 1, 2 and 3 buttons are available.
Radio Receiver
315 MHz radio receiver is integral to the Medium-Duty Logic board. Accepts up to 20 Security+® remote controls and unlimited DIP switch remote controls.
Construction
NEMA 1 type electrical box, heavy-duty 11-gauge steel frame with baked-on powdercoat finish, all reduction sprockets drilled and pinned to shafts.