ATS 211
ADVANCED TROLLEY SYSTEM LIGHT-DUTY TROLLEY OPERATOR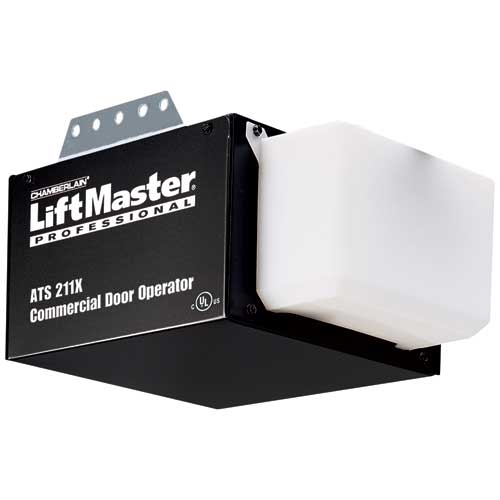 Security+® anti-burglary coding radio receiver, standard
Automatic safety reverse/automatic door stop
Maximum run timer
Heavy-duty "1-beam" configured trolley track
Auto-reconnect trolley
Meets current requirements for both commercial and residential door operators
LiftMaster® Commercial Door Operators are engineered, manufactured and tested to provide reliable service to meet the toughest commercial applications.
Residential/Commercial Operator Advanced Trolley System for use on standard lift sectional doors up to 14′ high, rated for 8 cycles per hour. The ATS meets all current federal and state laws and UL325 safety standards for residential and commercial applications.
Features
Automatic Safety Reverse / Automatic Door Stop
Reverses door automatically if obstucted when going down, stops if obstructed going up.
Manual Release With Auto Reconnect Trolley
Manual release in case of power failure. When power is restored, a push of the button automatically reconnects the door and operator.
"I-Beam" Trolley Track
Industrial-strength-heavy-duty steel "I-beam" configuration for increased rigidity for 8′, 10′, 12′ and 14′ door heights. Full #48 chain drive.
The Protector System®
Projects an invisible light beam across garage door opening. If anything interrupts the beam while the door is closing, door automatically reverses before making contact. If beam is obstructed, door will not close.
Push Button Station
Momentary contact to open and close.
14′ Center Support Bracket
Standard with 14′ rail. Optional on all other door sizes. Provides additional rail support on 14′ doors.
Motor
High-torque, industrial, 1/2 HP, 115V, single-phase motor with instant reverse and automatic reset thermal overload.