8355
1/2 HP AC CHAIN DRIVE GARAGE DOOR OPENER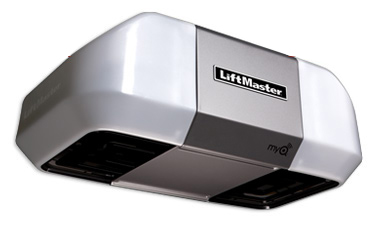 Connectivity
• MyQ® Technology enables you to securely monitor and control your garage door opener and houselights with your smartphone, tablet or computer.
• Alerts can be received as email or pop-up (push) notifications on your mobile device so that you always know the status of your garage door and houselights.
• MyQ mobile app is a free download requiring no activation or subscription fees.
Performance
• P3™ Motors from LiftMaster® are reliable, durable and powerful – designed specifically for your needs.
• 1/2 HP AC motor with industrial-strength chain drive provides steady performance and lifting power.
• Energy-efficient operation consumes up to 75% less power in standby mode.
• 4-year motor warranty and 1-year parts warranty.
Safety and Security
• Security+ 2.0™ safeguards your household – with every click a new code is sent to the garage door opener so that the door opens only for you.
• PosiLock® locks down your garage door by electronically monitoring against a forced opening.
• Alert-2-Close warning system provides audible and visual warnings when the garage door is about to close when using MyQ Technology.
• The Protector System® has safety sensors that project a light beam across the garage door opening, automatically reversing the door if anything interrupts the beam.
Included Accessories
3-Button Remote Control (893LM)
Allows you to control up to three garage door openers, gate operators or MyQ Light Accessories.
Multi-Function Control Panel® (882LM)
Enables you to turn garage door opener lights on and off from inside the garage.
Optional Accessories
Internet Gateway (828LM)
Connect your MyQ-Enabled Garage Door Opener and Accessories to the Internet with this device.
Ceiling Mount (195LM)
Give your garage the style it's been missing by hiding the wires and cords with this sleek ceiling mount. Works in most standard garages.
Remote Light Control (825LM)
Allows you to control any lamp with your garage door opener remote control or smartphone via the Internet Gateway and the free MyQ app.
Door and Gate Monitor (829LM)
Enables you to monitor and close up to four garage doors or gates from any room in your house